AeroX
Heating/cooling air, pre-conditioning fresh air and recovering residual heat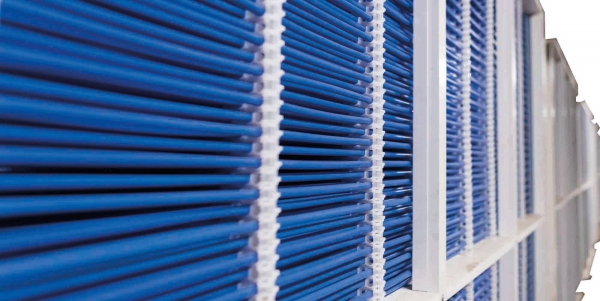 In the case of the AeroX air-to-water heat exchanger, the liquid (usually water) flows through the plastic tubes of the heat exchanger. The gas (usually air) flows between the water-filled plastic tubes. The difference in temperature between the water and the surrounding air will cause energy (heat) to be transferred from the water to the air, or vice versa, from the air to the water.

The AeroX air-to-water heat exchanger is available in 2 sizes, each with its own area of application;
1600 mm tubes: ideal for pre-conditioning, large quantities of air (flow), efficient integration in walls, ceilings, etc.
900 mm tubes: its more compact dimensions make this version ideal for installation in air handling units, ducts, climate units, incubators, etc.
AeroX 0.9 performance specifications
In this example, 500 litres of water flow through a package every hour. Other water and air volumes are possible. This will be assessed on a case-by-case basis.
ΔT = temperature difference between incoming air and incoming water


AeroX 1.6 performance specifications
In this example, 500 litres of water flow through a package every hour. Other water and air volumes are possible. This will be assessed on a case-by-case basis.
ΔT = temperature difference between incoming air and incoming water